Where the money goes
All of the dog and greyhound rescues listed on the 'Buy the book' page of this web site have been selling the book and raising money for their causes.
Every copy of "A La Bark Baking" purchased from me direct or through this web site, has also raised money for dog rescue – some of the donations made so far are shown below.
The sales of the book have led to the following donations being made so far in 2010/11 :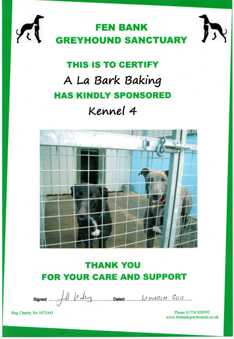 Our kennel sponshorship certificate for Fenbank Greyhound Sanctuary for 2011
Fenbank Greyhound Sanctuary - sponsorship of kennel - http://www.fenbankgreyhounds.co.uk/
Greyhound Rescue Wales - donation - http://www.greyhoundrescuewales.co.uk/
Southern Lurcher Rescue - donation - http://www.southernlurcherrescue.org.uk/
Mutts in Distress - donation -
http://www.mutts-in-distress.org.uk/
Cottage Rescue - donation -
http://www.cottagerescue.ie/
Perry Barr RGT - donation -
http://www.rgtperrybarr.co.uk/
Lurcher SOS - donation -
http://www.lurchersos.org.uk/
Romford Greyhound Owners Association - donation -
http://www.rgoa.org.uk/
Northern Greyhound Rescue web site
http://www.northerngreyhoundrescue.org.uk/
The money has been used to help pay for dental tretment on this lovely 10 year old boy who has been taken in.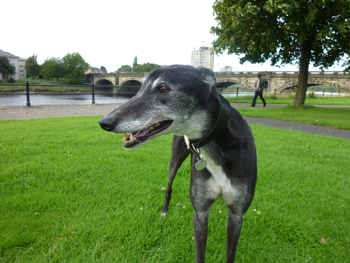 Donation to Cork Dog Action Welfare Group web site http://www.dogactionwelfaregroup.ie/index.html
The donation will help with medical costs for Elliemay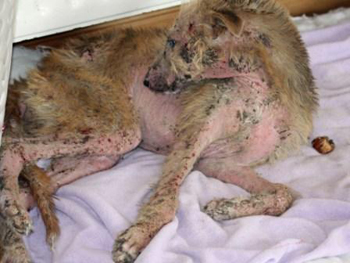 Her story can be found here: http://www.dogactionwelfaregroup.ie/news.html
Also continued support this year for Castledon Greyhound Rescue and Tia Greyhounds
…………………
A donation was made to the Ciudad Animal Shelter at Pedro Munoz, a city which is located about 160km in Southern Madrid and about 260km West of Valencia following a tornado and torrential flooding.
As you can see from these pictures, the dogs are standing in inches of water without being able to get out onto dry land. There will also be issues with sanitation and feeding and a host of problems once the water subsides with bacteria.
The dogs have nothing to play with, most of the time they are alone. There are so many dogs that are urgently looking for their own family. This is also an appeal for people with big hearts and loving homes for them. The dogs need help in many ways but most of all a dry place, then to stop them mobbing others because of lack of toys, the whole situation their contact with people etc.
One of the dogs standing in the flooded centre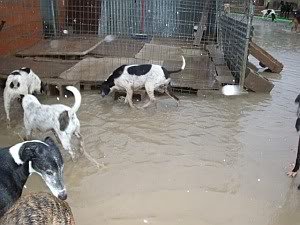 Flooded kennels and the dogs
…………………
A donation was also made to the San Anton Shelter as this shelter was a victim of the same tornado. It caused severe damage, knocking out the electric and water supply for the dogs. Saskia and her rotating volunteers from Holland had been slowly repairing the already run down shelter over the last few years and now this. Their surveillance cameras that were brought from Holland to curb the theft of their precious galgos were finally installed this year and as you can see the shelter was severely damaged by this disaster. We hope they can salvage the equipment. "The dogs are cold, wet and there is no water" she says and we know how disheartened the volunteers at San Anton must feel.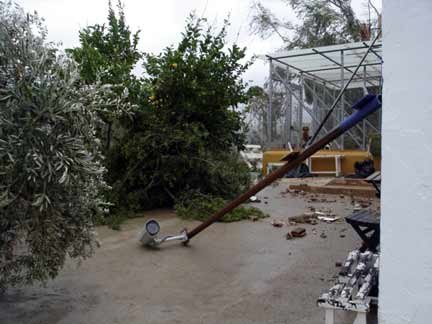 Storm damage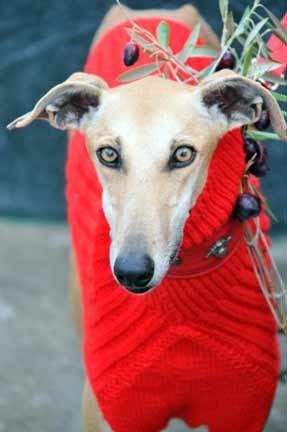 One of the residents before the disaster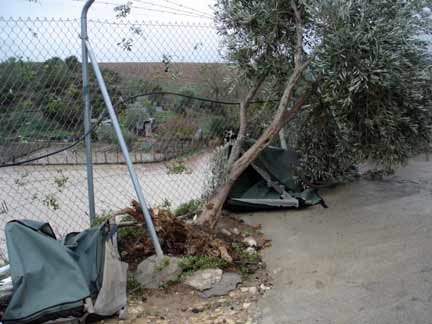 Flood damage adn broken fences at the centre
…………………
A donation was sent to Animal Helpline to assist with medical bills.
Rosie is a four year old Lurcher girl, now under the care of Animal Helpline, who was picked up by the Police and Dog Warden in the Peterborough area after being hit by a motor vehicle, or possibly thrown from one. She suffered extensive injuries to both hind legs with traumatic dislocation of the right hip and severe musculature damage. Her left leg suffered an open fracture and associated ligament damage. There was also extensive bruising plus several open wounds. Surgery was performed to stabilise the fracture with a plate and the musculature of the right leg re-attached by means of screw and washer.
The fact this lovely girl survived is due to the persistence of the Dog Warden in going the extra mile in ensuring adequate pain relief was made available and enlisting the help of the RSPCA. Several bodies were approached to assist in covering the costs involved - amongst those agreeing to help were Peterborough Council, Dogs Trust and Blue Cross. Although some of the primary care has been covered, funds are still desperately required due to the extensive surgery involved, and funding for the post-operative phase is also required to cover dressings, consultations, drugs and secondary suturing.
…………………
Money has also been sent to http://progalgoenglish.wordpress.com/ for winter coats for the hounds and to help with general costs.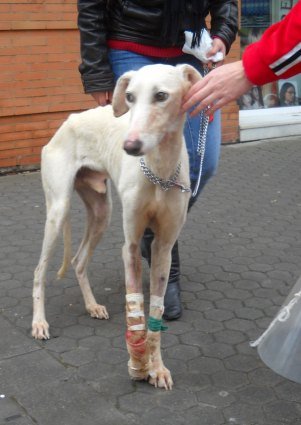 …………………
A donation has been made to Baths Cats and Dogs Home for the Major appeal.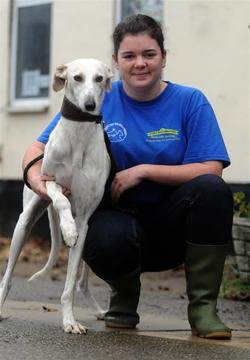 http://www.justgiving.com/MajorAppeal/
Major was found loose on Salisbury Plain with a leg which has been badly broken and left untreated. The donation will go towards the cost of medical treatment.
…………………
Chester at GRWE has been sponsored by A La Bark baking for the year.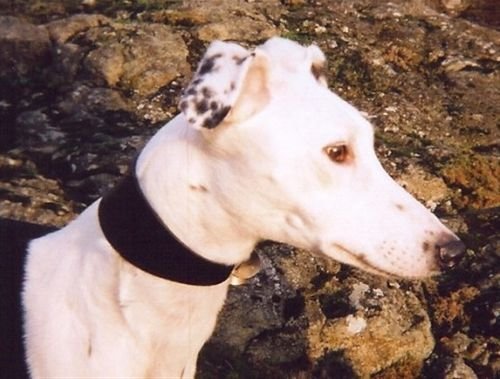 Chester
will spend the rest of his days with GRWE receiving all the love and care he needs.
…………………
Timmy a long term resident at Castledon Kennels Essex, has also been sponsored for the year.
I also donated a months supply of dog food gratefully received from Dogs Monthly magazine and Hi Life following an article about me and the book.
http://www.greyhoundrescueuk.co.uk/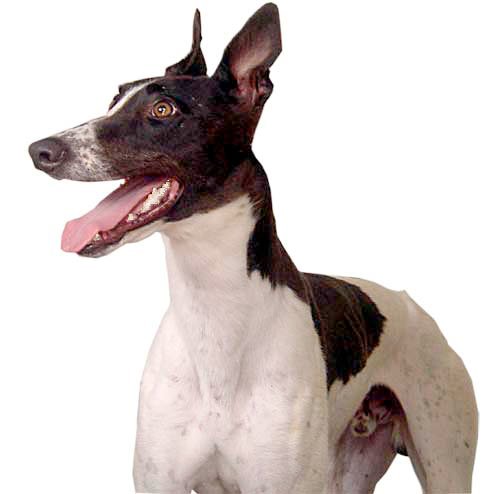 …………………
Hi, I'm Lucy Lu and I have been sponsored with donations made from the money raised by the sale of the Al La Bark Baking cookbook.
I am two years old but look like I'm ten years old due to my horrible injuries. These injuries mean that GLWR have put me into a long term foster home with, would you believe it, three other greyhounds and even more visiting greyhounds. They tell me that they call this place "Granny's Dog Centre". Mind, I love them all to bits.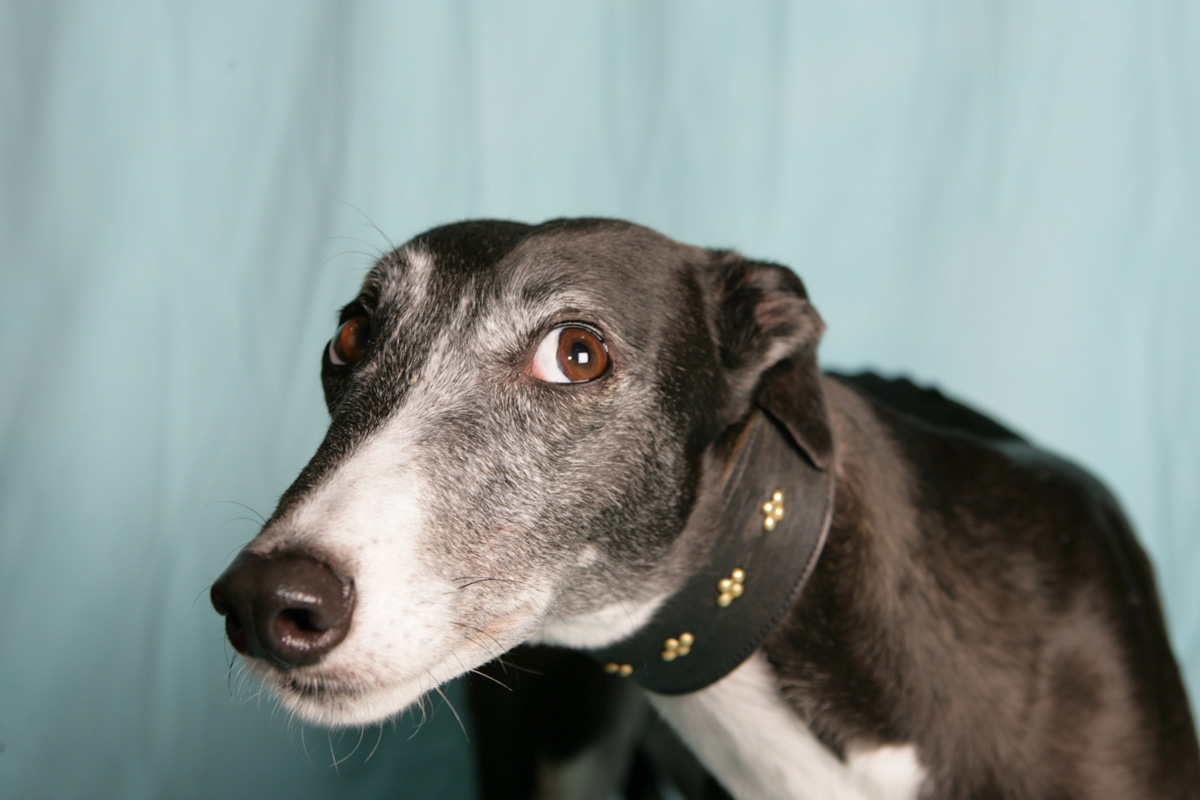 …………………
A La Bark has sponsored Tinka for a second consecutive year. Tinka is a beautiful lurcher who escaped from travellers and was then hit by a car. Her injuries are such that she can never be rehomed, but she is safe and loved at Tia Greyhound and Lurcher Rescue where she will remain for the remainder of her life.
http://www.tiagreyhounds.org.uk/